ACCOMMODATION
The Hotel where every Guest becomes family!
This service is aimed at caring for the truly special friends that cannot be left with just anyone…..
On Arrival: Yorkies are welcomed with lots of love and attention and the owners are reassured of their safety.
Our Facilities: Our Guests share the house with us and our Yorkie children.
The Garden: Enclosed and safe for them to play without any dangerous plants.
Meals: Meals include Royal Canin food, as well as snacks.
Hotel Service includes:
In Main House

Special needs catered for

24 hour supervision

vet on call 24/7

playtime – lots of toys

soft warm beds with mohair blankets

lots of love, hugs, kisses and attention

socialization with other people and their yorkies
PLEASE NOTE: No Yorkies with Ringworm, Kennel Cough or Parvo will be booked in!!!!!
Call us for rates and special arrangements
A flea free environment:
Guests must be up to date with inoculations and have proof with them on the day they book in.

Quick enquiry
Complete and submit
Contact us:
Tel and address detail:
Office information:
65 Highgrove Estate
Collindale Avenue
Beverley Grove
6065
Port Elizabeth
South Africa

Contact detail:
Cell: (082) 462-1116

E-mail: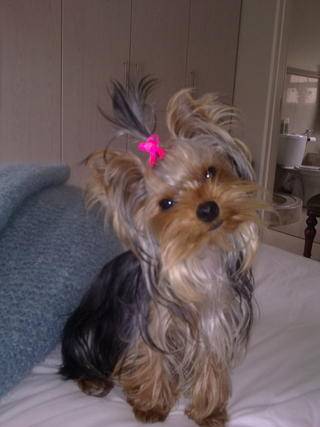 Using this site means you accept its
terms
| Copyright © 2021 Yorkie Hotel & Boutique, Port Elizabeth, South Africa.
| website by